WILSON BUSINESSES BRING TRUNK OR TREATING TO PUBLIC HOUSING CHILDREN
Helping Hands Bail Bond partnered with other Wilson businesses and organizations to host what it hopes will be its first annual Trunk or Treat for children living in public housing in Wilson. The trunk or treating kicked off at 4:30 p.m. on Halloween at the Wilson Housing Authority's Whitfield Homes and spread throughout the evening to the El Ramey Circle Homes and then to EB Jordan Homes – serving more than 100 children in the process. The staff of Helping Hands Bail Bond partnered with Word Empowerment Ministries of Wilson, Bohanna's Variety Shop, I.T.S. MC, Master Cuts Barber Salon and East Carolina Italian Ice to make this opportunity possible. Tiffany Horne, owner of Help Hands, said she was just looking for "a way to give back to the community," and help give children a good Halloween at the same time. Horne and rest of Helping Hands had four decorated vehicles with a different theme for each one and the right amount of spooky music to set the mood. Kelly Vick, president and CEO of the Wilson Housing Authority, said Halloween is always a fun time for children and adults and he appreciated the efforts of the community businesses to come together to offer this event for the public housing residents." Posted November 1, 2019
WILSON HOUSING AUTHORITY RECEIVES CLEAN FINANCIAL AUDIT FOR 2018
For a fourth consecutive year, the Wilson Housing Authority has received a clean bill of financial health from an independent audit of its books. The financial audit was performed by the accounting and consulting firm Aprio. The firm studied the organization's books for the 2018 fiscal year, which ended on Dec. 31, 2018. The audit was accepted by the U.S. Department of Housing and Urban Development, which is the primary source of funding for the Wilson Housing Authority. The Wilson Housing Authority annually has its books audited by an outside organization to make sure that it is following the best practices for handling its finances and monitoring the federal grants that it receives through HUD. The audit was presented to the Wilson Housing Authority's Board of Commissioners at its most recent meeting and unanimously approved. Kelly Vick, the president and CEO of the Wilson Housing Authority, said the independent audit is important to demonstrate to the public that it is spending the money entrusted to it by the federal government in a responsible and transparent manner. "Diana Fish, our chief financial officer, and her team do an outstanding job of keeping track of how we spend our money and holding us accountable," he said. Established in 1953, the Wilson Housing Authority's mission is to provide safe, decent and affordable housing to the Wilson Community. It currently serves nearly 2,800 residents through both its conventional public housing programs and its partnership with private sector housing providers through the federal Housing Choice Voucher program. The housing authority has an annual budget of roughly $8 million dollars and employs 40 full-time workers." Posted October 31, 2019
WILSON CHURCH SPONSORS CLOTHING GIVE AWAY FOR PUBLIC HOUSING NEIGHBORS
King's Revival Center of Wilson recently sponsored a clothing give away and festival for its public housing neighbors who live in Whitfield Homes. The Tuskegee Street church worked with Cathy Kent, resident services director for the Wilson Housing Authority, to put on the day-long event, which also featured lunch, a cake walk and other games and a kid's zone. In addition to the games, Carolina Family Health Services was on hand to do blood pressure and other health screenings and church members lead a community prayer walk. Every family who participated in the event was able to sort through tables full of donated clothes of all sizes to help get them ready for the upcoming winter. Wilson Housing Authority President and CEO Kelly Vick said he deeply appreciates the work that King's Revival Center did to make this event a truly special one for the residents of Whitfield Homes. "Cathy has done a good job partnering with churches in our community to provide opportunities to our residents," Vick said. "Events like this clothing give away are a tremendous boost to many of them." Posted October 24, 2019
FOOD, FUN AND – OH YEAH – HORSES AT FIVE POINTS, HOUSING AUTHORITY FALL FESTIVAL
More than 250 people turned out recently for a sunny Fall Festival and Community Fun Day at Five Points Park on Sauls Street. The festival, which was co-sponsored by the Five Points Neighborhood Association and the Wilson Housing Authority, allowed neighborhood residents and folks living in public housing to come together for a hotdog and hamburger lunch and enjoy games, bouncy houses, a DJ and the chance to compete for door prizes. But the hit of the day was the unannounced appearance of Cherokee and Montana, who patiently gave rides to the numerous children who flocked to ride them. The horses were provided by Brandon Kent and Joshua Puente Castro and their appearance was coordinated by Cathy Kent, the resident services coordinator for the Wilson Housing Authority. Paris Tillers, 9, who attends Jones Elementary, said she was having fun at the bouncy houses but that as soon as the horses appeared she knew that she "had to ride Cherokee." The festival also featured tables of information provided by community organizations including Youth of Wilson, Crossroads Street Ministries, Carolina Family Health Centers, City of Refuge Church, One TO One with Youth, Omega Development Group, Eastpointe, Wilson OIC and the Freeman Round House. ADLA Foods from Goldsboro provided the food for the event and brought out their food truck to serve everyone. Wilson Mayor Bruce Rose kicked off the festival with a welcome to everyone and a thank you to all of the organizations who had come together to make the event happen." Posted October 22, 2019
EB JORDAN RESIDENTS COUNCIL SPONSORS BACK TO SCHOOL BASH
The Resident Council Committee of the Wilson Housing Authority's EB Jordan Homes recently raised funds to throw a back to school party for the children who live in the neighborhood. The annual back to school event is organized and funded by the council, which works with the housing authority to support activities in the community. Carla Hinnant, president of the Resident Council Committee, said the event is a chance to mark the beginning of school for the children and help them start the year with some basic school supplies. The council raises money throughout the year to purchase some of the back to school items, but it also receives support from area businesses, most notably The Dollar General store on Herring Ave. Kelly Vick, president and CEO of the Wilson Housing Authority, said the council members do an excellent job of planning events that benefit the entire community and work hard to make sure that everyone who wants to participate is included. In addition to the school supplies give away, the party included a hotdog lunch and games for both the children and the adults to play." Posted August 22, 2019
WILSON HOUSING AUTHORITY ANNOUNCES A PUBLIC HEARING
The Wilson Housing Authority will be hosting a public hearing on Thursday, September 26, 2019, at 2:00 p.m. at its administrative office at 301 E. Nash Street Wilson, NC. The purpose of the public hearing is to obtain input from city residents on the Wilson Housing Authority's proposed Five-Year Agency Plan and Annual Plan Submission to the U.S. Department of Housing and Urban Development for fiscal year 2020. All residents are encouraged to attend this hearing. A copy of the plan will be available for public review from 9:00 a.m. to 4:00 p.m., Monday-Thursday, prior to public hearing at the address below. Written comments can be submitted prior to public hearing by mailing them to: Wilson Housing Authority, 301 E. Nash Street, Wilson, NC 27893." Posted August 13, 2019
FEDERAL GRANT PROVIDES SEXUAL RISK AVOIDANCE TRAINING FOR HOUSING AUTHORITY TEENS
Teens living in the Wilson Housing Authority's public housing communities recently participated in sexual risk avoidance workshops provided through a federal grant in partnership with a Raleigh-based organization that administered the training. The two-day workshop was offered twice to youth ages 13-19 and more than 25 teens participated in the training. The two, four-hour sessions focused on helping the youths by providing tools and resources to prevent unintended pregnancy, build healthy life skills and prevent teen dating violence. The training was done by CJH Educational Grant Services through a grant overseen by the Family and Youth Services Bureau of the federal Department of Health and Human Services. "The Wilson Housing Authority is committed to providing programs to our residents that help them build their life skills, and this program gave teens living in public housing the chance to learn skills that can help them make good choices," said Kelly Vick, President and CEO of the housing authority." Posted August 9, 2019
DENTAL VAN OFFERS FREE CHECKUPS FOR CHILDREN LIVING IN PUBLIC HOUSING
The Friendly Dental Van recently brought smiles to a number of children living in the Wilson Housing Authority's public housing communities by offering free checkups and cleanings to kids ages 5 through 18. The Friendly Dental Van program was founded by Charlotte area dentist Gregory Abrams in 2002 and provides services to children who do not normally receive routine and ongoing dental care. The van visited both the E.B. Jordan Homes community and the Forrest Road Homes community and was able to offer services to more than a dozen children. Wilson Housing Authority Residential Services Coordinator Cathy Kent said bringing the van to the two public housing areas is an example of the housing authority's commitment to trying to provide a variety of services to its residents. "It is particularly critical for us to offer our residents access to dental and other health services when we can make them available," Kent said." Posted August 8, 2019
ARTS COUNCIL OF WILSON SPONSORS ARTS CAMPS AT WILSON HOUSING AUTHORITY CENTERS
For the past three weeks, the Arts Council of Wilson has been sponsoring arts camps for school age children at the Wilson Housing Authority's Community Centers. These popular camps have become a favorite week for many kids who live in the housing authority's E.B. Jordan, Whitfield Homes and Forrest Road Homes neighborhoods allowing them to explore different areas of artistic endeavor. The camps have been sponsored by the Arts Council of Wilson for more than a decade and the council provides the teachers and materials for the week-long sessions. "Our partnership with the Arts Council to put on these camps is one of the high points of the summer for many of the children who live in our public housing neighborhoods and we are deeply appreciative of the council's willingness to support it," said Kelly Vick, the president and CEO of the Wilson Housing Authority. The camps are normally taught be local artists and arts teachers and this year was no exception. The first and third sessions was taught by local artist Louis Small and the second week was led by local artist Jeanine Kittinger. "We are thrilled to be partner with the housing authority and bring arts to our community," said Dee Dee Oliver, the visual arts coordinator for the Arts Council of Wilson. "By removing any barriers that may prohibit participation such as financial or transportation, we are able to connect with each other. Art helps us to open our minds and any differences we may have fall away." Posted August 7, 2019
WILSON POLICE BRING ITS PAL MOBILE KITCHEN TO HOUSING AUTHORITY NEIGHBORHOOD
The Wilson Police Department's PAL (Police Athletic League) program surprised the residents of the Wilson Housing Authority's E.B Jordan neighborhood with a surprise cookout hosted out of its new mobile kitchen. Capt. Jeff Boykin of the Wilson Police Department said the recently held cookout was the first community outreach event that PAL has held with the kitchen and that they are looking to do more of this around the city. "This is a chance to go into the community and give back to the residents," Boykin said. About 75 children, adults and Wilson Housing Authority staff were treated to a hotdog and hamburger cookout complete with deep-fried Oreos for dessert. Kelly Vick, president of the Wilson Housing Authority, thanked the Police Department for putting on the cookout and said it was the kind of event that builds trust and cooperation with the police." Posted July 21, 2019
WILSON HOUSING AUTHORITY'S HOUSING CHOICE VOUCHER PROGRAM NAMED HIGH PERFORMER
For a second consecutive year, the Wilson Housing Authority has achieved a perfect score for the operation of its Housing Choice Voucher program. The U.S. Department of Housing and Urban Development gave the housing authority a score of 100 for the 2018 operation of its voucher program, which serves more than 650 families and individuals throughout Wilson County. Achieving a score of 100 earns the Wilson Housing Authority the designation of high performer for the operation of its voucher program – commonly known as Section 8. This is the third consecutive year that the Wilson Housing Authority has achieved the high performer designation. "Being recognized by HUD (the US Department of Housing and Urban Development) as a high performer for a third year in a row is a reflection of how hard our folks are working to make this program a success," said Kelly Vick, the president and CEO of the Wilson Housing Authority. Housing Authority Board Chairman Thomas Eatmon said the recognition is well deserved. "The housing authority has been working hard for the citizens of Wilson and this recognition of its housing voucher program is well earned." The housing authority's Housing Choice Voucher program is overseen by Occupancy Manager Valinda Belton. The programs' two case workers are Shakilya Battle and Gail Williams and its inspector is Shawn Lucas. The Wilson Housing Authority serves more than 1,200 families and individuals in Wilson County through its public housing and voucher programs." Posted June 19, 2019
BARTON COLLEGE STUDENT DESIGNS "FRESH FACE" FOR WILSON HOUSING AUTHORITY
The Wilson Housing Authority needed a new sign for its Nash Street office building. It needed the sign to be fresh, bold and blend in with the changing atmosphere of downtown Wilson, while still reflecting who the housing authority is and what it does. Those were the broad instructions given to a group of graphic design students at Barton College who agreed to take a shot at creating this new look. What the housing authority got was something totally different from a student artist who had already splashed Primordial Ooze across a back wall of Imagination Station as part of a city project to get more public art in downtown. "It was an honor to be picked by the housing authority for this project," said Crystal Bowers, a Barton College senior who will be graduating in December and is majoring in graphic design and painting. "I was intrigued by the project because they (the housing authority) wanted to put a fresh face to a business that is helping those less fortunate in society." Bowers, who is 33 and spent five years serving in the Air Force in Germany before moving to the Goldsboro area and going back to school, said she wanted the outline of houses and different structures to be incorporated into the design instead of just being text. "The H is supposed to look like a skyscraper or large office building while the A is a more traditional house," she said. Bowers' first effort immediately stood out to the housing authority – but went just a touch too far. The text design was great. The five color patchwork design behind it, however, worked on the computer screen but not for a sign that would hang on a building often with the sun beating down on it. So Bowers went back to the computer and settled on the eventual color, green. "The green reads natural and grassy," she said. "It brings the urban in with nature. "Overall, I am very pleased with the way it (the sign) turned out." So is the housing authority, which provides affordable housing opportunities for more than 1,200 Wilson families through its public housing and housing voucher programs. "This partnership between the housing authority and Barton has turned out great," said Kelly Vick, president and CEO of the Wilson Housing Authority. "We had been looking for a new design for the sign for some time and turning the whole thing over to the graphic design students at the college accomplished what we hoped would happen." Susan Fecho, Dean of the School of Visual, Performing and Communication Arts for Barton College, agreed that the partnership is valuable for both parties. "It is important for graphic design students to work with clients, to make sure projects are completed to the clients' satisfaction, to understand the production end of design, and to make sure projects are completed on time," Fecho said. The sign is not the first piece of art that Bowers has designed in Wilson that hangs in public. She was chosen by the city of Wilson to create a mural that would hang on an exterior wall on the back of Imagination Station. The mural, which she calls Primordial Ooze, sprawls across a wall just off a small alley called Imagine Alley. Bowers said the chance to do these relatively high profile projects has made her realize how much graphic design clicks with her and she is planning to pursue professional opportunities in the field following graduation. "I think the new look makes the whole housing authority more appealing." Posted June 10, 2019
RESTORATION OF HISTORIC VARITA COURT CONTINUES WITH NEW/OLD LOOK MAKEOVER
The exterior of the Varita Court Apartments in downtown Wilson is receiving a makeover and just like any good facial, its success is dependent on the quality of the materials and the makeover artists.The Wilson Housing Authority agreed to purchase the building in 2017 and has been working with the city and the U.S. Department of Housing and Urban Development to restore the 1920's era apartment building to its former glory while also providing affordable housing for elderly residents in the heart of the city. "We knew when we acquired the building that it was going to need some restoration work and we have been working with our contractor, the city and HUD to make sure that is happening in the best possible way for everyone," said Kelly Vick, the president and CEO of the Wilson Housing Authority. Located in the Old Wilson Historic District, Varita Court was built in 1923-24 by Wilson businessman and planter Jesse B. Williams. The apartment building was constructed in a Tudor style and still contains many of the same flourishes that made it a popular placed to stay with visiting tobacco buyers who annually flooded into Wilson. The housing authority has already done a considerable amount of work to the interior of the building including redoing many of the bathrooms in the units, updating the kitchens and doing work in the basement. The most visible part of the work got started in earnest earlier this spring, however, when a new roof was put on the building and masons began repairing the exterior brickwork. The work is necessary to better waterproof the building but it can't be done in the cheapest way possible. Making sure the brickwork is as historically accurate as possible involves a lot more than just putting some new mortar in the joints and calling it done. Working with Dana Corson, preservation planner for the City of Wilson, and the contractor for the project, Carolina Restoration and Waterproofing, the housing authority tried to make sure the new brickwork would match the original brickwork. That involved everything from the selection of any new brick that would be needed to color matching the mortar to make sure it would not clash. Corson said paying attention to such details is not only necessary when restoring a building in an historic area but demonstrates a desire to do the project the right way. "I want to commend the housing authority for doing a top notch job at keeping the building as close to the original as possible," she said. The work is being financed by a $500,000 loan from the North Carolina Housing Finance Agency. Troy Davis, Development Director for the Wilson Housing Authority, said the partnership with the city and HUD has been valuable in making sure the restoration of done properly while still allowing the residents to stay in their apartments. The building has 23 one- and two-bedroom units for elderly residents who qualify based on income. In addition to Varita Court, the Wilson Housing Authority also offers affordable housing for elderly residents at it Forrest Green development off of Forrest Road and at C. Bruce Rose Tower across from the Wilson County Public Library. Established in 1953, the Wilson Housing Authority's mission is to provide safe, decent and affordable housing to the Wilson Community. It currently serves more than 2,700 residents through both its conventional public housing programs and its partnership with private sector housing providers through the federal Housing Choice Voucher program." Posted May 27, 2019
AG CENTER DONATES TREES TO THE WILSON HOUSING AUTHORITY
Wilson's E.B. Jordan Homes is receiving a landscaping facelift thanks to the donation of trees by the Wilson County Agricultural Center. The Ag Center donated 16 Crepe Myrtle trees to the Wilson Housing Authority. The trees will be planted at the authority's E.B. Jordan Homes' community, which is located off of London Church Road. The donation consists of eight white Natchez Crepe Myrtles and eight purple Catawba Crepe Myrtles. Wilson County Master Gardener Julia Newton helped to facilitate the donation. Newton works with the Housing Authority on its community gardens program. Wilson Housing Authority Development Director Troy Davis said the authority is grateful for the donation of the trees and the partnership that the organization has with Newton. "She has been instrumental in making our community gardening program a success and the donation of the trees will add to the landscaping at E.B. Jordan Homes," Davis said." Posted May 16, 2019
EASTER BUNNY MAKES APPEARANCE AT HOUSING AUTHORITY EGG HUNT
More than 50 children and their parents participated in an Easter Egg Hunt and hotdog supper Thursday afternoon sponsored by the Wilson Housing Authority. The kids were able to hunt for more than 2,000 eggs that had been hidden on the playground and playing fields at EB Jordan Homes. The egg hunt is an annual tradition that the housing authority holds for its residents, but this year the hunt had a new participant – the Easter Bunny. The event is put on by housing authority staff and was made possible by generous contributions from the Wilson Walmart Supercenter and several other individuals and churches that support Housing Authority activities." Posted April 19, 2019
WILSON HOUSING AUTHORITY MAKES CHANGES TO ITS PUBLIC HOUSING WAITING LISTS
The Wilson Housing Authority is closing its Public Housing waiting list for one and two bedroom units in its Whitfield Homes, E.B. Jordan Homes and Forrest Road Homes communities. We will still be accepting applications from eligible households for three, four and five bedroom units in all three of those areas. The housing authority is also accepting applications from persons who are 62 years old or older for its C. Bruce Rose Plaza one bedroom units and its one and two bedroom units in its Varita Court Apartments. All new applications will be accepted every Tuesday and Thursday from 9:00 a.m. – 4:00 p.m. at any of our public housing offices: Forrest Road Homes, 502 Parkview St.; Whitfield Homes, 633 E. Walnut St.; and E.B. Jordan Homes, 1800-H Fountain Dr. Applications may be picked up Monday-Thursday 9:00am–4:00pm at our public housing offices and our administrative office at 301 E. Nash St." Posted March 22, 2019
WILSON PUBLIC HOUSING CHAMPION WINS CITY'S GOOD NEIGHBOR AWARD
Her knees buckled a little, she swayed slightly and for all the world looked like she might faint when she heard her named called. But Carla Hinnant has proved she is a lot tougher than she looks. So when she was named the winner of Wilson's Good Neighbor Award for 2019 she pulled herself together as effortlessly as she pulls together events for her beloved EB Jordan Homes community. Words, however, proved to be more of a challenge for this Wilson Housing Authority resident who for more than five years has been the head of EB Jordan's Resident Council Committee. "Oh my gosh, y'all," she managed to get out between the congratulatory hugs. "I can't believe that I was picked." As the volunteer president of the committee, Hinnant, who in physically disabled and has legal custody of her three grandchildren, has made it her mission to make her neighborhood as warm and inviting as any neighborhood in Wilson. In her nominating letter for the award, Cathy Kent, the Resident Services Coordinator for the Wilson Housing Authority, said that Hinnant's efforts have "touched the lives of more than 420 people and 203 households," "She deserves to receive the Good Neighbor Award because she unselfishly gives of her time and talents to her neighborhood and community who may not have the opportunity to otherwise receive these benefits," Kent continued. The Good Neighbor Award is one of six annual awards that the city bestows upon selected citizens who donate their time, talents and treasure to help make Wilson a better place to live. All of the nominees must be volunteers and cannot be recognized for any project that they work on as part of their job. EB Jordan Homes is one of three public housing communities that the Wilson Housing Authority manages in Wilson, N.C. Hinnant's efforts to make EB Jordan Homes a better place to live can be seen in nearly all aspects of life at the public housing community. Among the programs she has championed are:
A Chat and Chew initiative for residents that allows them to come together to discuss neighborhood situations and problems that need to addressed.
A Straight Talk program that has brought in speakers to talk to residents about topics such as parenting, saving for homeownership and building a more inclusive and accepting community for all people.
A Coupon Clipping Club to help residents save money on their groceries.
A Community Watch Team that has improved safety in the community.
A back to school bash for students that annually provides them with a backpack full of new school supplies. All of the supplies are supplied by her and the Resident Council Committee through donations that they solicit from area businesses.
Annual home delivered Thanksgiving and Christmas dinners for all of the seniors who live in EB Jordan.
Wilson Housing Authority President and CEO Kelly Vick said that Hinnant has been a blessing to her community and her neighbors.
"She has worked tirelessly on behalf of the residents of EB Jordan Homes to help make her community a place that anyone would want to call home." Posted Feb. 28, 2019
WILSON HOUSING AUTHORITY RESIDENTS START YEAR WITH WELLNESS CHECKS
The Wilson Housing Authority and Carolina Family Health Centers' Wilson office have partnered to offer free wellness checks for Wilson's public housing residents. The first of these events was held on Wednesday, Jan. 30, at C. Bruce Rose Plaza. Sandra Coley, Outreach Coordinator for Carolina Family Health Centers, said the wellness checks take about five minutes to complete and they screen for sugar levels, blood pressure, and HIV. Jeffrey Little, 52, who lives at the plaza, was first in line to get checked and acknowledged that he "doesn't take care of himself." Little said he has been on dialysis for 16 years and will always take advantage of a chance to get checked by a medical professional, particularly his sugar levels.
Coley encourages everyone to get a regular wellness check and told Little that he shouldn't shy away from getting everything checked so he would have as much information as he could get. Wilson Housing Authority Resident Services Coordinator Cathy Kent said 17 checks were done during the two hours that Coley and her team were at the plaza.
This is the first of three wellness check sessions that the housing authority and Carolina Family Health Centers have scheduled for the year. A second wellness check is scheduled for Feb. 27 at Forrest Road Homes and a third for March 6 at Whitfield Homes. Kent said the Wilson Housing Authority tries to schedule the annual free wellness checks for its residents to supplement the medical care that they already receive." Posted Feb. 1
ERIN DAY JOINS WILSON HOUSING AUTHORITY BOARD OF COMMISSIONERS
The Wilson Housing Authority welcomed a new commissioner to its governing body at its January board meeting. Erin J. Day of Wilson was sworn in as one of the Wilson Housing Authority's Board of Commissioners five members, joining Board Chairman Thomas Eatmon, Kent Montgomery, Brenda Lewis and Annie Ward. She is replacing Judy Weatherington on the board. Day is the Director of the Division of Coalition Support at Community Impact NC in Wilson and the Co-Director of the North Carolina Lock Your Meds Campaign. She has worked towards the prevention of substance use disorders for over 10 years. Day is specifically focused on preventing underage alcohol use & of-age over consumption and prescription drug misuse through environmental strategies and community based processes. She has received Coalition Academy training through Community Anti-Drug Coalitions of America, is a trained Recovery Coach, and has had training in racial equity and disparity issues through the Racial Equity Institute. Wilson Housing Authority CEO and President Kelly Vick said Day brings valuable experience and insight to the board and that she is well known and respected in the Wilson community. "Erin brings a great breadth of experience of working to build partnerships in Wilson, which will be valuable to the Wilson Housing Authority as it continues to build relationships that help it pursue its goal of providing affordable housing opportunities to the community," Vick said. The Wilson Housing Authority employees nearly 40 people and has an annual budget of roughly $8 million. Its operations, which include running more than 700 public housing units and 660 vouchers for rental assistance to low income families and individuals, are overseen by its five member board. Day is also a member of The Rotary Club of Wilson and serves on the Board of Directors for the Mental Health America of Wilson County. She has a B.S. in Business Administration and a B.A. Religion & Philosophy from Barton College. She has lived in Wilson for 17 years. She and her husband Aaron have two children, Audrey and Axel." Posted Jan. 15, 2019
WILSON STUDENTS JOIN MR. AND MRS. CLAUS TO CELEBRATE CHRISTMAS WITH EB JORDAN RESIDENTS
More than 150 residents of the Wilson Housing Authority's EB Jordan Homes were recently treated to a Christmas celebration featuring Mr. and Mrs. Claus and performances by musical groups from the Sallie B. Howard School for the Arts and Education and Fike High School. The Christmas celebration was planned by Timothy Bastien, the manager of EB Jordan Homes, and Carla Hinnant, who leads the resident's council at EB Jordan. The children and adults at the party saw drum, step and choral performances by students from Sallie B. Howard in the parking lot of the EB Jordan Community Center before adjourning inside the center to hear a special Christmas story from Mrs. Claus and enjoy a picnic style dinner. Children were also able to get their photos taken with Santa and members of the Fike High School Band gave the audience an end of the night performance. In addition to the two schools, several local businesses and churches stepped forward to donate items for the celebration." Posted Dec. 20, 2018
VICK HONORED FOR FIVE YEARS AS HOUSING AUTHORITY LEADER
The Wilson Housing Authority's Board of Commissioners honored CEO and President Kelly Vick for five years of service as the housing authority's leader at the board's December meeting. Vick, 47, joined the Wilson Housing Authority in 2012 and served for a year as its Director of Development before being named President and CEO in 2013. Thomas Eatmon, the Chairman of the Board of Commissioners, presented Vick with a plaque for his years of service and discussed the accomplishments that have occurred at the housing authority under Vick's leadership. "We stepped out on faith when we hired Kelly to lead the housing authority," Eatmon said. "During that time that faith has been rewarded by his stable leadership and vision in moving the authority forward." Under Vick's leadership, the authority has strengthened its finances, partnered with numerous community organizations to provide new opportunities for its residents, and most recently has received several state grants to build new affordable housing units to replace units that were abandoned after Hurricane Matthew. Vick thanked the board for the plaque and quickly gave credit to the authority's staff for making the Wilson Housing Authority a strong advocate for affordable housing and providing services to low income Wilsonians. "I am glad I got the opportunity to lead the organization," Vick said. "It is always an honor to tell people what we are doing for the Wilson community and what we are doing to keep moving forward. Wilson Mayor Bruce Rose, who appoints the authority's board members, said Vick's leadership at the housing authority is one of many good things happening in Wilson. "Just like downtown, there is a lot going on at the housing authority," Rose said. Established in 1953, the Wilson Housing Authority's mission is to provide safe, decent and affordable housing to the Wilson Community. It currently serves nearly 2,800 residents through both its conventional public housing programs and its partnership with private sector housing providers through the federal Housing Choice Voucher program. The Wilson Housing Authority employees nearly 40 people and has an annual budget of roughly $8 million. Its operations are overseen by its five member board." Posted Dec. 19, 2018
WEATHERINGTON STEPS DOWN FROM WILSON HOUSING AUTHORITY BOARD OF COMMISSIONERS
Longtime Wilson businesswoman and community leader Judy Weatherington wrapped up 11 years of service as a member of the Wilson Housing Authority's Board of Commissioners on Thursday, Nov. 8 at the board's November meeting. Weatherington, who was the board's vice chair, was appointed to the board in 2007 by Wilson Mayor Bruce Rose and in that decade she has helped steer the housing authority through a number of changes in providing affordable housing to the community. During that time, she has also been a vocal advocate for the residents of the authority's three public housing neighborhoods and more than 650 families who participate in its housing choice voucher program. "I appreciate all of her dedication and hard work," said Thomas Eatmon, the chair of the housing authority's board. "She has been with us through some rough times." Wilson Housing Authority President and Chief Executive Officer Kelly Vick said Weatherington's business experience and communitywide knowledge have helped the housing authority tremendously during her time on the board. Weatherington owned and managed both The Hobby Shop and Flowers Shoes of Parkwood prior to the closing of the Wilson Mall and she has also served as general manager of Eldercare of Wilson and worked for the Wesley Shelter helping victims of domestic violence and sexual assault. Currently, Weatherington is retired but serves as chair of Wilson's Planning and Design Review Board. "During my time on the board we have done a lot and learned a great deal about housing," Weatherington said. "It has been a good experience and I have seen a lot of changes and improvement in the housing authority in the last decade." The Wilson Housing Authority employees nearly 40 people and has an annual budget of roughly $8 million. Its operations are overseen by its five member board. Current board members are Eatmon, Kent Montgomery, Brenda Lewis and Annie Ward." Posted Nov. 8, 2018
BB&T AND WILSON CRISIS CENTER TEAM UP TO HELP NEW WILSON HOUSING AUTHORITY RESIDENTS
Thanks to the generosity of the BB&T Lighthouse Project, new families moving into public housing units in Wilson will have some housecleaning – and house warming — supplies to help welcome them to their new home. Members of a BB&T Lighthouse Project teamed up with the Wilson Crisis Center to gather cleaning, laundry and personal hygiene items to be placed into buckets and given to the Wilson Housing Authority to distribute to the new move ins. The Wilson Crisis Center is one of the partner agencies with the United Way. It serves the community 24/7 with a live human voice each day. Nancy Sallenger, executive director of the Wilson Crisis Center, said the buckets and items in them – which she calls "Buddy Buckets" – are both a housewarming gift and a practical reminder of the need to keep a home clean. "This project is essential to our community so we can assist in keeping our people healthy and assist all in having a better quality of life," Sallenger said. "A list of instructions is placed in each bucket with the items to guide the recipient in promoting good health and cleanliness." To stuff the buckets with each of their items, Sallenger received assistance from the BB&T employees, youth volunteers who staff the center's Teen HelpLine, and public housing residents of C. Bruce Rose Plaza who assist the Crisis Center with tasks around the office. The Crisis Center's office is in the basement of C. Bruce Rose Plaza, which is owned by the Wilson Housing Authority. "While the baskets contain just a few supplies, they are reminders to the individuals and families receiving them that they do have the support of the community behind them and that there are people who want them to succeed in their new home, said Sallenger. One of the new residents getting a bucket was Theodore Richardson, who has recently moved into Whitfield Homes. Richardson chose the cleaning supplies bucket because he said he needed them to get started with taking care of his new home and thanked everyone involved for helping him with the supplies. Michelle Hargrove, the manager for Whitfield Homes, said she has already passed out nine baskets to new residents and the response has been overwhelmingly positive. "This is a wonderful thing for our new residents," Hargrove said. "It is truly a blessing." Georgia Edson, who led the BB&T Lighthouse project team that worked on the Buddy Bucket project, said she is "honored to work for a company that allows us the opportunity to give back to our community through the BB&T Lighthouse Project. "This allows those in need to be provided with day-to-day necessities that others may take for granted. Having the opportunity to support our community is gratifying, and considered a privilege," Edson said. "I look forward to serving our community through the Lighthouse Projects for years to come." Kelly Vick, the president and CEO of the Wilson Housing Authority, said the housing authority is grateful for the work that BB&T and the Crisis Center did to put these new resident baskets together. "These baskets do a lot to let people know that they are not alone," Vick said. "We all need help from time to time and for these families it is good for them to know that the community is looking out for them and that they have a place to turn to in the Crisis Center if they have a problem." Posted Nov. 10, 2018
WILSON HOUSING AUTHORITY CONTINUES RUN OF CLEAN FINANCIAL AUDITS
For a third straight year, the Wilson Housing Authority has received a clean bill of financial health from an independent audit of its books. The financial audit was performed by the accounting and consulting firm Aprio. The firm studied the organization's books for the 2017 fiscal year, which ended on Dec. 31, 2017. The audit was also submitted to, and accepted by, the U.S. Department of Housing and Urban Development, which is the primary source of funding for the Wilson Housing Authority. The Wilson Housing Authority annually has its books audited by an outside organization to make sure that it is following the best practices for handling its finances and monitoring the federal grants that it receives through HUD. "The outside audit is important because it demonstrates to the public that we are handling their money in an efficient and trustworthy way," said Kelly Vick, the president and CEO of the Wilson Housing Authority. "Diana Fish, our chief financial officer, and her team do an outstanding job of keeping track of how we spend our money," he added. The audit was presented to the Wilson Housing Authority's Board of Commissioners at its most recent meeting and it was unanimously approved. Established in 1953, the Wilson Housing Authority's mission is to provide safe, decent and affordable housing to the Wilson Community. It currently serves nearly 2,800 residents through both its conventional public housing programs and its partnership with private sector housing providers through the federal Housing Choice Voucher program. The housing authority has an annual budget of roughly $8 million dollars and employs 40 full-time workers, more than half of whom work in its maintenance and operations division." Posted Nov. 8, 2018
E.B. JORDAN RESIDENTS THROW BACK TO SCHOOL BASH FOR COMMUNITY SCHOOL CHILDREN
The Resident Council of the Wilson Housing Authority's EB Jordan Home's community threw a Back 2 School Bash for the area's children a week before the start of public schools. The event attracted more than 100 children and their parents. The annual event is sponsored by EB Jordan's Resident Council, a group of residents in the community, who plan and sponsor events throughout the year, including getting the area's children ready for the new school year. This year's event featured a games competition where the winners won prizes, music, a hot dog and hamburger lunch and the giving away of school supplies to families in the community who need the help.
The Resident Council oversaw the collection of donations for the party and the school supplies give away. The Dollar General store on Herring Ave. allowed the council to put out a box soliciting donations and Carla Hinnant, the president of the council, said the response from the community was overwhelming. "That box remained full," Hinnant said. "Without that help, we wouldn't have been able to help so many of our children."
Other donations came from individuals in the neighborhood and housing authority staff. Kelly Vick, president and CEO of the Wilson Housing Authority, said the EB Jordan Resident Council members do an excellent job of reaching out to their neighbors and planning events that benefit the entire community. Thanks to the generosity of the donors, the Resident Council was able to send some of the donated school supplies to the El Ramey Circle neighborhood to benefit the children who live there." Posted Aug. 21, 2018
ARTS COUNCIL OF WILSON HOSTS ARTS CAMPS FOP WILSON HOUSING AUTHORITY
Joel Jordan took a brief look at the soupy mix of water, vegetable oil and food coloring that lay in the roasting pan in front of him and splashed a quick drop of more green into it. He was trying to get just the right shading before he lay his paper on top of the liquid to soak it up for 30 seconds. Any longer and it would become saturated and unusable, any shorter and it wouldn't have enough time to etch the amoeba-like patterns on to paper that he was trying to achieve. Marbling is what his arts camp teacher, Renata Brewington, called it. Cool is what the rising seventh-grader at the Sallie B. Howard School said. "It is good to experiment," said Joel, 13, as he removed the paper from the mixture. "I like the unknown of what it will make." Joel is one of a group of children ranging from pre-school to high school who live in the Wilson Housing Authority's Forrest Road Homes' neighborhood and who are participating this week (July 9-13) in one of the housing authority's arts camps. The camps are sponsored by The Arts Council of Wilson, who is supplying the teachers and supplies for the one-week camps. The camp at Forrest Road is taught by Brewington, who is the arts teacher for Stantonsburg and Vick elementary schools. Brewington said she enjoys opportunities like this week's arts camp to expose kids to different parts of art. "It is fun to challenge myself to do something different than just draw with pink crayons," she said. "And if I am doing things that interest me, I know it will interest the kids." In addition to Brewington, the other camps have been taught by Louis Small and Morgan Stancil. All three of the instructors have been assisted by recent high school graduate volunteer Kyleigh Anthony. "We are so thankful to the Wilson Rotary Club for providing the financial means for the Arts Council of Wilson to bring the art experiences and creative outlets for the Wilson Housing Authority," said Cathy Hardison, executive director of the Arts Council. "These experiences are so important to the healthy development of our youth." Kelly Vick, the president and CEO of the Wilson Housing Authority, said this community support is vital to providing these opportunities to housing authority residents on an ongoing basis. "The arts camps are a big part of the summer for many of our children," said Vick. "We are grateful to The Arts Council of Wilson and the Wilson Rotary Club for their willingness to sponsor them and provide our residents with this opportunity." Posted July 13, 2018
RESIDENTS FLOOD SUN-DRENCHED COMMUNITY DAY AND HEALTH EXPO AT FIVE POINTS PARK
A sunny Saturday afternoon greeted the several hundred Wilson residents who made it out to Five Points Park Saturday for a day of food, fun and even a little learning. The Community Fun Day and Health Fair Expo was sponsored by The Five Points Association, The Wilson Housing Authority and numerous community organizations whose booths lined the walking track around the park. Participating organizations who were on hand to pass out information and goodies included Wilson's Legal Aid Office, The Wilson County Department of Social Services, North Carolina A&T's Cooperative Extension Program, The Arts Council of Wilson The Five Points Outreach Center, Crossroad Street Ministry and Y.O.U.T.H. of Wilson. The Health Fair was coordinated by Sandra Coley of the Carolina Family Health Centers and the Wilson County HIV/AIDS Task Force. Fresenius Kidney Care of Pitt County was also on hand to talk with residents. The Wilson Police Department brought its mobile Ident-A-Kid unit and also supplied the grill and chef for the more than 400 hot dogs and hamburgers that were consumed during the afternoon. Posted June 25, 2018
FIVE POINTS ASSOCIATION AND WILSON HOUSING AUTHORITY PARTNER TO OFFER COMMUNITY FUN DAY AND HEALTH FAIR THIS SATURDAY
The Five Points Association, the Wilson Housing Authority and numerous community organizations are coming together to throw a Welcome to Summer Community Fun Day and Health Fair Expo Saturday at Five Points Park on Sauls Street. Among the activities that are planned for the day are bouncy houses, family games, free food and drink, a DJ, arts and crafts, and large fans and water misters to keep people cool. Organizations that will be attending and passing out information about their family support services include Wilson's Legal Aid Office, The Wilson County Department of Social Services, The North Carolina Cooperative Extension 4-H Youth Development, The Arts Council of Wilson, The SPOT, The Salvation Army's Boys and Girls Club of Wilson, The Youth of Wilson, The Five Points Outreach Center and the Wilson Human Relations Commission. This year's event has grown from previous community fun days as the Five Points Association decided to partner with the Wilson Housing Authority, which holds an annual family day for its residents. "Bringing the two events together allows us to pool our resources and create a better event for the entire community," said Kelly Vick, president and CEO of the Wilson Housing Authority. "This is the kind of partnership that HUD wants housing authorities to be involved in and strengthens the entire community." Claude Brown, one of the leaders of the Five Points Association, said the event will be larger and offer more activities and information for the community because of the partnership. The partnership includes sponsors like, the Omega Development Group, civic organizations, local businesses and churches. The event will also feature a health fair that is being hosted by The Carolina Family Health Centers with help from the Wilson County Health Department, the OIC of Wilson and the Wilson County HIV/AIDS Task Force. Another partner, Fresenius Kidney Care of Pitt County will give information and bring awareness of kidney issues. Sandra Coley of Carolina Family Health Centers said the Health Fair will include basic health screenings, such for blood glucose and blood pressure, but will also include information about HIV screenings and need for all people who believe they might be at risk to get tested for HIV. The Health Fair will also have information available about the national HIV Testing Day, which is June 27. Another partner organization, The Wilson Police Department, will have its mobile Ident-A-Kid unit at the event for parents to get their children signed up and officers will also be manning the grill to cook hotdogs and hamburgers. The fun-packed day will go from 11 a.m. to 3 p.m. and is open to all Wilson residents and their families. Posted June 22, 2018
WILSON HOUSING AUTHORITY RECOGNIZES ITS SENIOR RESIDENTS WITH DAY OF FUN AND GAMES

The Wilson Housing Authority recently hosted its annual Senior Day, which brings together housing authority senior residents, housing authority staff and community organizations for a day of fun and games. More than 80 people attended the event, which was organized by Cathy Kent, the housing authority's resident services director. Housing authority residents who are 62 years old or older were invited to the event, which was held at the Forrest Road Community Center. There, they were able to play games such as Name that Tune and Let's Make a Deal, dance to the sounds of DJ Easy Bee, Bennett Watson, and hear presentations on subjects of interest to them. Among the community organizations that attended Senior Day were the Wilson Police Department, the Wilson County Department of Social Services, the OIC of Wilson and Lincoln Heritage Life Insurance Company. "This annual event is a great chance to recognize our senior residents and put them in touch with community organizations that have resources that can be of use to them,'' said Kelly Vick, president and CEO of the Wilson Housing Authority. Posted May 31, 2018
WILSON HOUSING AUTHORITY'S HOUSING CHOICE VOUCHER PROGRAM NAMED HIGH PERFORMER

The Wilson Housing Authority has achieved a perfect score for the operation of its Housing Choice Voucher program in 2017. The U.S. Department of Housing and Urban Development gave the housing authority a score of 100 for the operation of its voucher program, which serves more than 650 families and individuals throughout Wilson County. Achieving a score of 100 earns the Wilson Housing Authority the designation of high performer for the operation of its voucher program – commonly known as Section 8. This is the second consecutive year that the Wilson Housing Authority has achieved the high performer designation. "Gaining this recognition is a testament to the hard work that the housing choice voucher staff has put in to running the program," said Kelly Vick, the president and CEO of the Wilson Housing Authority. Housing Authority Board Chairman Thomas Eatmon echoed Vick's comments. "Under Kelly's leadership, the housing authority has been working hard for the citizens of Wilson and this recognition is well earned." The housing authority's Housing Choice Voucher program is led by Senior Housing Manager Valinda Belton. The programs' two case workers are Shakilya Whitley and Gail Williams and its inspector is Shawn Lucas. The Wilson Housing Authority serves more than 1,300 families and individuals in Wilson County through its public housing and voucher programs. Posted May 18, 2018
LOWE'S DONATION FUELS COMMUNITY GARDENS AT WILSON HOUSING AUTHORITY'S EB JORDAN HOMES

Tomatoes, peppers, eggplant and other vegetables are part of the harvest that the gardeners at the Wilson Housing Authority's EB Jordan Homes community have to look forward to this summer and fall, thanks to the generosity of Wilson's Lowe's Home Improvement Store. Lowe's provided the lumber and other material needed to build five raised bed, box gardens at the Wilson public housing community, the plants needed to get those gardens going and a hose and sprayer to ensure the plants don't go thirsty during the long, hot months ahead. "Lowe's is all about giving back to the community," said Wilson Store Manager Vanessa Drew. "We support a number of building and gardening projects in Wilson." The EB Jordan community gardens join gardens that the housing authority already maintain at its Whitfield Homes community and its Forrest Green community. The gardens are planted and tended by Wilson Housing Authority residents and the program is overseen by Resident Services Coordinator Cathy Kent. Master Gardener Julia Newton works with the residents to keep the gardens up and advise them on how to best care for the plants. Wilson Housing Authority President and CEO Kelly Vick said the community garden project is a great partnership between the public housing residents and community organizations. "We want to thank Lowe's for making these gardens possible," he said. Posted May 16, 2018
HEALTHCARE FOUNDATION OF WILSON AND WILSON COUNTY DSS GET HOUSING AUTHORITY SENIORS MOVING

Wilson Housing Authority senior residents are getting the chance to get in better shape thanks to a grant from the Healthcare Foundation of Wilson that is part of the Eat Smart/Move More North Carolina program. The program is a combined effort in Wilson County by the Wilson County Department of Social Services, the YMCA of Wilson and the Wilson County Health Department. They have partnered with the Wilson Housing Authority to offer these exercise classes to the housing authority senior residents. The classes, which are being offered once a week at the Forrest Road Homes Community Center, are taught by David Caudle, the Wellness Director for the Y. In addition to the stretching and cardio fitness exercise that Caudill puts the class through each week, the residents are receiving exercise and fitness gear that they can use on their own at home. Along with a T-Shirt and towel, each senior resident who is part of the program received a pedometer watch to use while walking and exercising, an electronic jump rope that will count your calories burned and jumps while you use it and a resistance band for stretching and muscle building exercises. Posted April 22, 2018
WILSON POLICE SPONSOR WILSON HOUSING AUTHORITY SENIORS' TRIP TO NAHUNTA

A group of senior residents from the Wilson Housing Authority took a spring trip to the Nahunta Pork Center on Thursday, April 5, thanks to a lift – literally – from the Wilson Police Department's Police Athletic/Activities League. The Police Athletic/Activities League provided the vans and drivers to take the group of 11 seniors to shop at the "Pork King," and enjoy a buffet lunch at Fred Chason's Grandsons in Smithfield. Accompanying the housing authority seniors on their trip were Sgt. Chelsea Sanders, Senior Police Officer Angie Harold and Senior Police Officer Kolly Burritt. The seniors on the trip were from all three of the Wilson Housing Authority's public housing communities and its housing choice voucher program. The Wilson Housing Authority and the Police Athletic/Activities League partner several times a year to offer day trips to the housing authority's seniors. Posted April 9, 2018
COMMUNITY ORGANIZATIONS SPONSOR EGG HUNT FOR WILSON HOUSING AUTHORITY CHILDREN

On a day that truly felt as if Spring had finally arrived, more than 100 residents of the Wilson Housing Authority's public housing community gathered Thursday (March 29) for an Easter Egg hunt and enjoy the start of the Spring Break holiday for school students. The egg hunt and cookout was organized by the staff of the housing authority and made possible by the generous support of several community sponsors for the event. The eggs and candy for the event were provided by the Wilson Walmart Supercenter and officers from the Wilson Police Department were on hand to work with the children at the event and help serve the hot dogs. In addition to the hot dogs, which were donated by the police department, other Wilson businesses and organizations that provided support for the event were Trucking By D&B, Vaughn's Chapel Church and Kairos Church Ministries. The egg hunt was for children ages 0-12 and was held on the green space behind the Forrest Road Homes Community Center. Posted March 30, 2018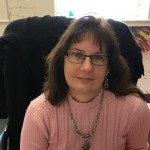 HOUSING AUTHORITY CFO GRADUATES FROM NATION'S PREMIER PROFESSIONAL DEVELOPMENT PROGRAM

Diana Fish, the chief financial officer for the Wilson Housing Authority, recently graduated from the Executive Director Education Program offered through the Public Housing Authorities Directors Association and Rutgers University. The two-year program prepares senior housing authority officials from across the nation to become the head of a public housing agency by immersing them in topics that are critical for running a successful agency. Topics covered by the program include executive housing management, financial management, maintenance, legal issues, procurement and contract management, fulfilling HUD requirements and communications. Fish was chosen by her fellow graduates to give the keynote speech at their graduation, which was held in early January in San Diego during the annual Public Housing Authorities Directors Association's Commissioners Conference. The conference was attended by more than 800 public housing officials and commissioners from around the country. During her speech, Fish said she admitted that she felt empathy for her boss, Kelly Vick, the president and CEO of the Wilson Housing Authority. "Now I have a better understanding of all of the different struggles that he has to face," Fish said. "The classes helped me to understand the total agency and not just the financial part of it." Fish also said that as chief financial officer, her first impulse is often to summarily reject funding requests. But, she said, the program made her more cognizant of the budget for the whole agency, making funding requests more sensible when seen in that light. Vick, who graduated from the same program two years ago, said the courses have strengthened Fish's management, financial and administrative skills. "Diana is my right hand in running the housing authority and she is already putting into practice what she learned in the classroom," he said. Fish has worked for the Wilson Housing Authority since 2012 and has been its CFO since 2013. The Wilson Housing Authority manages more than 700 public housing units, 26 market rate units, 23 elderly units and 661 Housing Choice vouchers. In addition to rental income, the agency budget is supported by nearly $8 million in U.S. Department of Housing and Urban Development funds. Posted Jan. 26, 2018
THE WILSON HOUSING AUTHORITY PARTNERS WITH DURHAM NON-PROFIT TO TEACH DIGITAL LITERACY CLASSES TO PUBLIC HOUSING RESIDENTS

WILSON, N.C. – Mattie Clay wants to be able to do the same things that her children and grandchildren do.
Gloria Whitley wants to go back to school. Her husband, Bobby Whitley, wants to do away with all of the paperwork that he has accumulated around their home and clutters it up. For all of them, the key to unlocking their dreams is to learn how to use the computer to do the same tasks that many people now consider part of their daily lives. The difference for them and for thousands of people like them in Wilson County is that computers aren't part of their daily lives. The wealth of information and resources that are available at the simple click of mouse to anyone who has a computer, isn't available to those who don't have one and don't come in daily contact with them. This split is known as the digital divide and to help residents of public housing in Wilson overcome it, the Wilson Housing Authority has partnered with the Kramden Institute of Durham to teach basic computer digital classes – 15 people at a time. The classes are taught in four two-hour sessions and starts with the basics, right down to how you properly turn a computer on and off. In addition to learning how to navigate your way around the computer and become familiar with it, other sessions teach residents how to use basic office programs, browse the internet, and use social media and share information. Anyone who attends all four sessions will receive a refurbished laptop computer, one year of technical support and a USB drive to store their information, all from Kramden. The computers are being provided by a grant that was awarded to Kramden Institute. Kramden also provided training late last year to two people from the Wilson Housing Authority to teach the classes. One of the teachers is Cathy Kent, the housing authority's resident services director, and the other is a public housing resident,
Beverly Williams. Both of the teachers are receiving a stipend from Kramden for teaching the classes. Kent recruited Williams to be the second teacher. Kent knew Williams was used to dealing with technology and has a good way with people, and felt she felt that Williams could use those skills to teach these computer skills to her fellow residents. "I have grown up with all of this," said Williams. "It is a beautiful opportunity for the people in housing and I am happy to be part of it." The classes are being taught at the Whitfield Homes Community Center and there will be two four-week sessions. The first session is underway and is full and there is a waiting list for the second session. If both sessions go well, there is a possibility of partnering with Kramden to offer more classes at a later date. "There are many obstacles to overcome when creating programs to bridge the digital divide," said Cari DelMariani, the director of programs for the Kramden Institute. "This partnership between Kramden and the Wilson Housing Authority is especially effective because it provides residents with not only devices but access to training and low cost internet. I believe this program will be a model we can easily replicate in many more NC communities." Offering the digital literacy classes is a continuation of the push that the Wilson Housing Authority has made in the last couple of years to improve the access that its public housing residents have to high speed broadband services and to resources that will help them be able to take advantage of this access. In 2016, the housing authority partnered with the city of Wilson's Greenlight service to provide low-cost high-speed broadband access to nearly all of the Wilson Housing Authority's public housing units. Currently, the deal, which includes high-speed broadband for $10 a month and a free Wi-Fi modem, is available to 591 public housing units and 235 families are taking advantage of it. "Now that we have high-speed broadband available to most of our public housing units the next step is to help our residents become more digital literate so they can take advantage of all of the resources that are out there," said Kelly Vick, president and CEO of the Wilson Housing Authority. "Partnering with the Kramden Institute and making this training and classes available is an important part of making sure that our public housing residents have the same opportunities that other people have." Gloria Whitley said the class and the chance at the free computer was enough to convince her that it was time to complete her GED and go back to school. The 61-year-old said she has worked and volunteered in schools much of her life, but that she would like to get more education so she could possibly work for Wilson County Schools. As motivated as she is to complete the classes, she said her husband Bobby wanted to go before she did. "He wants to get all of our paperwork and finances on the computer and do away with a lot of our paperwork," Gloria said. For Mattie Clay, 86, the chances to learn more about using computers is solely for her. "I want to be able to use email and go on the Internet," Clay said. "I am glad that I am not too old to try something new." Posted Jan. 25, 2018
WILSON HOUSING AUTHORITY GETS CLEAN BILL OF FINANCIAL HEALTH FROM OUTSIDE AUDIT

The Wilson Housing Authority has received a clean bill of financial health from an independent audit that studied the organization's books for the 2016 fiscal year, which ended on Dec. 31, 2016. The audit was done by the accounting and consulting firm Aprio. It has been submitted to and accepted by the U.S. Department of Housing and Urban Development, which is the primary source of funding for the Wilson Housing Authority.
The audit was presented to the Wilson Housing Authority's Board of Commissioners at its December meeting and it was unanimously approved. The Wilson Housing Authority annually has its books audited by an outside organization to make sure that it is following the best practices for handling its finances and monitoring the federal grants that it receives through HUD. "The outside audit is important because it demonstrates to the public that we are handing their money in an efficient and trustworthy way," said Kelly Vick, the president and CEO of the Wilson Housing Authority. This is the second straight year that the auditor has not found any findings against the housing authority. Established in 1953, the Wilson Housing Authority's mission is to provide safe, decent and affordable housing to the Wilson Community. It currently serves nearly 2,800 residents through both its conventional public housing programs and its partnership with private sector housing providers through the federal Housing Choice Voucher program. The housing authority has an annual budget of roughly $8 million dollars and employs 40 full-time workers, more than half of whom work in its maintenance and operations division. Posted Dec. 25, 2017
PARTNERSHIP BETWEEN THE WILSON HOUSING AUTHORITY AND THE OIC OF WILSON GIVES YOUNG ADULTS WITH CRIMINAL RECORDS A SECOND CHANCE AT LANDING EMPLOYMENT

All Joslynn Hinnant says she wants is a chance. A chance to prove herself. A chance to provide for her two children. A chance to live a normal life, have a job and not have to worry as much about how she will pay her bills. The same chance that everyone else gets. Hinnant, 21, has a criminal record, however, so getting that chance is not as easy for her. A lot of doors close in her face when she tells an employer or recruiter her story or fills out a job application. The same is true for Immanuel Lofton, a 23-year-old who also has a record and is also seeking a chance to earn his way up to full-time employment. "I just wanted a job, period," says the father of a 4-year-old boy. "I just want to help him out." For Hinnant and Lofton, that chance – most would call it a second chance – has come thanks to a partnership between the Wilson Housing Authority and the Opportunities Industrialization Center of Wilson, better known as the Wilson OIC. The Wilson OIC has
received a three-year, $700,000 grant to help young adults ages 18-24 who also have a criminal record get back into the workforce. The grant was awarded through a program known as SOAR and pays to help provide on-the-job training through employers who are willing to work with the people in the program. "We want them to learn a skill or trade and get the chance to get a job," said Jesse Raudales, the director of operations for the Wilson OIC. Which is why Hinnant, Lofton and three other young adults in the program, now find themselves working side-by-side with Wilson Housing Authority maintenance crews to help repair recently vacated public housing units to make them ready for the next tenant. "The OIC pays them and we match them up with a mentor and give them training," says Troy Davis, the Wilson Housing Authority's director of development. "They are getting basic work experience such as dry wall repair, stripping and waxing floors, adjusting doors and repairing windows." All of the people who the housing authority has accepted into the program have had to go through an employee check, drug screening and background check and it has a strict miss work and you are out of the program policy. To graduate from the program, the young adults have to complete 400 hours – 10 weeks – of work. At the end of the program there is a chance of getting on full-time with the employer and Davis said that is true for the Housing Authority's maintenance staff as well. "We are always looking to find ways to help us turn our vacant units more quickly and get them back into the hands of a new family who needs the affordable housing," Davis said. Hinnant said she is appreciative of the chance and likes what she is doing for the housing authority. "I like manly work," she said. "My grandfather had his own construction business so I am comfortable redoing floors and painting." Lofton said he doesn't have any formal maintenance or construction training but he said he heard about the opportunity at the housing authority from the OIC. "The OIC helped me get my ID and now they have helped me get a job," he said. Both Davis and Tim Little, the supervisors for the housing authority work crews, said none of the people in the program have much experience but they knew that going in. "Kelly (Housing Authority President and CEO Kelly Vick) said let's contact OIC and see if we can partner with them to get some help with our basic maintenance and repairs," said Davis. "Anything we can do to help these men and women get better trained and help keep our affordable housing units filled is a win for us." For Hinnant, she says the feeling is more basic. "I feel like God has opened a door for me." Posted Dec. 17, 2017

WILSON HOUSING AUTHORITY TO GO TOBACCO-FREE STARTING ON JAN. 1 TO COMPLY WITH FEDERAL MANDATE FROM THE DEPARTMENT OF HOUSING AND URBAN DEVELOPMENT

The New Year will bring a big change – and hopefully cleaner air – to the Wilson Housing Authority and its public housing complexes. Starting Jan. 1, all housing authority properties will be tobacco free. The new tobacco-free rules will bring the Wilson Housing Authority into compliance with a federal mandate from the Department of Housing and Urban Development that all public housing agencies be smoke free by July 31, 2018.  Housing authority staff have been working with its public housing residents and employees since the summer to prepare them for the change. Under the new rules, all tobacco use and vaping will be banned from all housing authority facilities and for 25 feet around the buildings. The smoke-free mandate by HUD was designed to create a healthier atmosphere for public housing residents and help housing authorities lower their maintenance costs. Many housing authorities have already converted to being tobacco free, including the Goldsboro Housing Authority, whose policy was cited as a model policy by the North Carolina Housing Authority Director's Association. "Going smoke free is not only mandated by HUD but is the right thing to do for our residents and our employees," said Kelly Vick, President and CEO of the Wilson Housing Authority. "We have heard from numerous residents who complain that they have to breathe in their neighbor's cigarettes and they have no way to protect their health from unwanted smoke." Currently, only a few Wilson Housing Units are designated as non-smoking. Vick said he decided to make the housing authority totally tobacco free because of the public health benefits and to eliminate any questions about favoring one type of smoking or tobacco use over another. "I just thought we should make it easy on everyone to understand," Vick said. The tobacco-free policy was approved in September by the Wilson Housing Authority's Board of Commissioners, following a public hearing. Eddie Bynum, who has lived in Tasman Towers for 17 years, said he never minded the smoke for years but now it bothers him. Bynum, who quit smoking 12 years ago after smoking for 55 years, said he suffers from COPD and uses an inhaler. "I can't hardly play cards with the other guys because of the smoke," the 81-year-old said. "It will make it a nicer place to live." The new rules don't only apply to the residents of public housing and their guests but to the employees as well. All employees will have to abide by the tobacco-free restrictions at all Wilson Housing Authority buildings. Chris Williams, the maintenance manager for the Housing Authority, said the new policy was one reason he started a smoking cessation program this fall.Williams, who has been smoking for three decades, said he was at his doctor's office and his doctor said he could help him to quit. "I decided if the Wilson Housing Authority was going smoke free I had better go smoke free as well," Williams said. "It is the right thing to do and I don't want to lose my job over a $5 pack of cigarettes." Eliminating smoking and tobacco use won't only clear the air around the housing authority's properties but it will also help keep the facilities in better repair and cut down on the annual costs of maintaining the residences. Additionally, it will allow new tenants to move into their homes more quickly because the length of time it takes to clean up and repair a unit when a resident moves out will be shortened – in some case considerably. According to HUD, a study from the Centers for Disease Control estimates annual savings of $154 million per year in reduced maintenance costs and fire damage for housing authorities because of the switch to smoke free. Going tobacco free does not mean that residents and employees will be prohibited from using tobacco products or vaping, but they will have to abide by the new policy and not use these products within 25 feet of any housing authority facility. For anyone who violates the policy, they will have at least two chances to abide by the policy and only use a tobacco product outside of designated tobacco free areas before any penalty kicks in. As part of this conversion to tobacco-free facilities, the Wilson Housing Authority has teamed up with the Wilson County Health Department to offer smoking cessation resources to any resident or employee who wants to try and stop using a tobacco product. All of the housing authority's nearly 1,400 public housing residents and employees were surveyed about joining a smoking cessation program offered through the Health Department. Thirty-two indicated they were interested. The housing authority and health department have held three meetings for people interested in learning more about smoking cessation and two more are scheduled for early December. The meetings are being led by Melissa Kanuck, who is a smoking cessation specialist with the health department. "The Wilson County Health Department is very happy to be a part of assisting the Wilson County Housing Authority with becoming tobacco free. Smoking and Tobacco use is one of the most preventable causes of disease" said Teresa Ellen, the health director for the Wilson County Health Department. "We are pleased to be working together to make Wilson a healthier place to live, work and play." Ellen said that vaping can also be harmful. "According to the Centers for Disease Control e-cigarette aerosol is not harmless. It can contain harmful and potentially harmful substances including nicotine, heavy metals like lead, volatile organic compounds, and cancer causing agents. In addition there have been reports of children who ingest the flavored liquid and become poisoned." Posted Dec. 6, 2017

Wilson Fire/Rescue Services doesn't often find a still standing building where the owner won't complain if firefighters rev up a chainsaw and cut a hole in their roof or break down the front door and leave it hanging from its hinges. But that is exactly the opportunity that the Wilson Housing Authority presented to the fire department in the form of 28 empty apartment units in its Whitfield Homes Public Housing area that are slated to be demolished by mid-October. Until the units are all down, Wilson Fire/Rescue Services is using the empty buildings to train its firefighters and firefighters from other departments on a whole range of problems that they might confront during a real fire.
And they don't have to worry about cleaning up behind them. "There is great value to this training because the crews are able to train in a realistic setting," said Deputy Fire Chief James Campbell, who heads up the department's training division/special operations & safety. "The houses that they are training in can be found in multiple areas of the community and the training gives the crews a better idea of the construction and layout of the houses," Campbell said. In addition to Wilson Fire/Rescue Services, the training opportunity has been offered to all Wilson County fire departments and the cadets enrolled at the Wilson Community College's Fire/Rescue Academy. At the units, firefighters and other personnel were able to hone their skills in forcible entry, ventilation, search and rescue, firefighter down rapid intervention, salvage and overhaul, hose-line advancement, scene size-up, victim removal, ladder operations and building construction. Troy Davis, the development director for the Wilson Housing Authority who helped coordinate this opportunity with the fire department, said offering up the soon-to-be demolished units to help first responders train made a ton of sense. "Building and continuing our relationship with the firefighters and other first responders is important to the housing authority and it makes us feel good to help them polish their skills on buildings we are going to tear down," Davis said. The units being demolished are on Banks Street, Walnut Street and Dew Street. All of the buildings were constructed in 1965 and had developed issues that made them structurally unsound and unfit for habitation. The Wilson Housing Authority plans to clear the property of the existing structures and eventually then build new units there to replace the demolished units and other units that were flooding in Hurricane Matthew and are not currently being lived in. Posted Sept. 28, 2017

The Wilson Housing Authority and the students of Keith Hobgood's Wilson Community College welding class have teamed up to construct metal railings for a ramp for a disabled resident in the housing authority's Forrest Road Homes area. The housing authority supplied the materials and went to Hobgood to see if it could get his student's help in constructing the metal railings. "This was an opportunity to build a partnership with the community college and bring the community together to help someone in need," said Troy Davis, development director for the Wilson Housing Authority. "This isn't just a class project," Davis said, "but it is something that they can ride by and see and know that they helped someone by building it." The Housing Authority will paint the rails and then install them at the unit of the longtime public housing resident. Posted Sept. 25, 2017

Preventing cooking fires is set to take a smart step forward this September for the residents of the Wilson Housing Authority's Varita Court apartments when Wilson Fire/Rescue Services installs a new technology in the historic building that fire officials say will stop stovetop cooking fires. Each apartment is scheduled to receive four SmartBurners for their stove, which contain technology that prevents the burners from heating to a temperature that would cause whatever is on the stove to combust and start a fire. "It is not possible for you to have a fire on these burners," Ben Huston, Life Safety Educator for the fire department, told residents of Varita Court as he talked to them about the technology and why it will be safer for them to have them in their apartments rather than the regular burners on their stoves. The SmartBurners are the result of a grant from the company that builds them, Pioneering Technologies, which allowed the Wilson Fire/Rescue Services to acquire 100 of the units. Deputy Chief Ben Smith said Pioneering Technologies approached the city about getting the grant because of the total risk reduction programs that Wilson Fire/Rescue Services have in place across the city. "They came to us and said they wanted to invest in our community," Smith said. "This is one of the best fire reduction units that we have seen. This particular technology stops the fire from starting." The Wilson Housing Authority recently acquired Varita Court and is in the process of renovating the 1920s-era building on Goldsboro Street. "We have a terrific partnership with Wilson Fire/Rescue Services and installing these burners will make the apartments safer for the residents," said Kelly Vick, President and CEO of the housing authority. Smith said cooking fires are one of the leading causes of fire in any residence and that over the last decade there have been four fatalities related to cooking fires in Wilson. The housing authority has already put SmartBurners in its units at C. Bruce Rose Plaza, and Huston said the residents there can already see the results. "It's a win-win situation." In addition to the SmartBurners, the fire department will also install a smoke detector with a 10-year lithium battery in it in each apartment in Varita Court. Wilson Fire/Rescue Services has enough SmartBurners to install them in 15 other Wilson Housing Authority units, including the townhouses on Hackney Street. Huston left residents with a word of warning, however, about the SmartBurners. "This will not save your food," he told them, "but it will stop it from reaching the temperature where it will catch on fire." Posted Sept. 15, 2017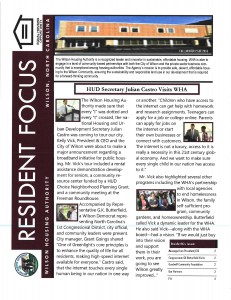 The Wilson Housing Authority has been honored for its efforts to keep its residents informed of events and issues effecting them through its Resident Focus newsletter. The newsletter was named the best newsletter for a large public housing authority in North Carolina and South Carolina by the Carolinas Council of Housing Redevelopment & Codes Officials. The announcement was made Tuesday, Aug. 22, at the organization's annual conference. The four-page newsletter was the brainchild of the Wilson Housing Authority's Resident Services Director Cathy Kent. Kent writes the articles, shoots the photos and designs the newsletter, which gets distributed to all of the housing authority's public housing areas. In addition to highlighting activities going on in the public housing areas and letting residents know about upcoming events, the newsletter also includes tips for residents on such things as lowering their power bill. Kelly Vick, president and CEO of the housing authority, said the newsletter provides useful information to its public housing residents and that he was glad that the judges of the newsletter contest could see all of the hard work that Kent has put into it. Posted Aug. 23, 2017

The Housing Authority of the City of Wilson has been selected as one of 30 organizations nationally to participate in ConnectHome Nation, a program that seeks to find solutions to help bring low-cost, high-speed internet access to public housing residents across the country. The announcement was made Monday, Aug. 21, 2017, by EveryoneOn, a national nonprofit organization that will be leading the program in conjunction with the U.S. Department of Housing and Urban Development. The Wilson Housing Authority is part of the inaugural group chosen to participate in ConnectHome Nation. The goal of ConnectHome Nation is to connect 350,000 people living in HUD-assisted housing to low-cost, high-speed internet access by 2020. Last year, the City of Wilson and the city's Greenlight internet service partnered with the Wilson Housing Authority to provide low-cost, high-speed internet access to every resident of Wilson's public housing. That project has been completed and the housing authority is looking to find other opportunities to help its residents become more digitally connected. "By making internet access affordable and available to our residents, we are providing them with unlimited opportunities for future success," said Kelly Vick, president and CEO of the Wilson Housing Authority. "We are very excited about the ConnectHome Nation program and the many partnership opportunities that we will have to increase opportunities for our residents." Posted Aug. 22, 2017
The Wilson Housing Authority and the Resident Council Committees at each of its three main housing areas teamed up to hand out backpacks stuffed with back to school supplies to more than 140 children. Each of the three main housing areas – Whitfield Homes, Forrest Road, and E.B. Jordan – held back-to-school bashes complete with food, games and music to celebrate the end of summer and get the students ready to return to class. The backpacks were available to all children living in a housing authority unit. The students range in age from just starting a Head Start program all the way to high school. Posted Aug. 22, 2017
A coalition of Wilson County public agencies and non-profit organizations, including the Wilson Housing Authority and the Wilson County Department of Social Services, has been recognized for its work finding housing for the homeless in Wilson County. The National Association of Counties presented the coalition with an Achievement Award for its Solutions for Homeless program which has found housing for nearly 200 homeless people. In addition to the housing authority and the Department of Social Services, other agencies that have been part of this effort are Hope Station, Wesley Shelter and Wilson Energy. The agencies have worked together through the Wilson Greene Regional Housing Committee to pool their collective resources to find housing for those in the greatest need, including victims of domestic violence, families with children and veterans. Thomas Eatmon, Chair of the Wilson Housing Authority's Board of Commissioners, represented the housing authority at the presentation of the award at the August meeting of the Wilson County Commissioners.
The Wilson Housing Authority has taken over the management of Varita Court apartments at 205 North Goldsboro Street and is in the process of finalizing the purchase of the three-story, Roaring 20's era building. The housing authority is working in conjunction with the U.S. Department of Housing and Urban Development to buy the building and help restore some of its former shine. The first major project for the housing authority is putting on a new roof and repointing all of the building's exterior brick work to make it more waterproof. That work is being facilitated by a $500,000 loan from the North Carolina Housing Finance Agency. "Varita Court is an historic building in downtown Wilson that needed saving, both for the elderly residents who live there and for the community as a whole," said Kelly Vick, President and CEO of the Wilson Housing Authority.  Faye Mobley of HUD's Southeastern Region in Atlanta visited Wilson to tour the building and discuss with housing authority staff the challenges and opportunities presented with taking over the historic property. Mobley said saving historic structures like Varita Court is important to their communities and that HUD is committed to working with Wilson Housing Authority to make this project a success.
Three weeks, lots of paint, beads and assorted craft items, and plenty of smiles. Those were the ingredients of a summer of fun at the Wilson Housing Authority's Arts Camps at its three public housing areas. The annual camps were sponsored this year by the Arts Council of Wilson and the Wilson Rotary Club, which gave $1,000 to help spread the Arts Council's programming for children and youth to kids who otherwise might not be able to take advantage of it. More than 35 children from E.B. Jordan, Forrest Road and Whitfield homes participated in the camps, which were taught by Anna Batts and Kim Valentine.
The Wilson Housing Authority and the Wilson Family YMCA recently teamed up  to offer an activity camp for children at the housing authority's E.B. Jordan Homes. The camp is sponsored by the YMCA and offers activities for children in the housing authority's summer feeding program, including a game day and a movie day. The camp is run by Molly Staley, an intern at the YMCA. Her family lives in Wilson and she is a rising senior at Shepherd University in Shepherdstown, West Virginia. About 20 children per day are participating in the camp.
The Wilson Housing Authority recently hosted a 3 on 3 Basketball Tournament at The Spot Gymnasium in honor of Father's Day. The teams were made up of residents and mentors from the organization's three main public housing areas: E.B. Jordan Homes, Forrest Road Homes and Whitfield Homes. E.B. Jordan defeated Forrest Road in the final game to win the championship. In addition to the basketball tournament, nurses from the Wilson Community Health Center were on site to do basic health screenings. Thirty-two people were seen during the two-hour event. Sponsoring organizations for the Housing Authority's annual tournament were the Wilson Community Health Center, The SPOT, the City of Wilson Police Department and The Trophy Connection.