Waiting List Closed
The waiting list for the Wilson Housing Authority's Housing Choice Voucher Program is currently closed. It will open on Monday, Oct. 3, 2022 and remain open until Monday, Oct. 24. Please see the link to more details on our home page for more information.
If you have any questions, please call or email Timothy Rogers at 252-291-2245 ext. 225 or at trogers@wilsonha.org.
Housing Choice Voucher Program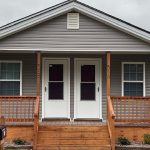 The Housing Choice Voucher program (formerly known as "Section 8") is the federal government's major program for assisting very low-income families, the elderly, and the disabled to afford decent, safe, and sanitary housing in the private market. Since housing assistance is provided on behalf of the family or individual, participants are able to find their own housing, including single-family homes, townhouses and apartments. The participant chooses any housing that meets the requirements of the program and is not limited to units located in subsidized housing projects.
Vouchers are limited to low-income families and individuals. WHA determines eligibility based on:
Annual gross income;
Whether you qualify as elderly, a person with a disability, or as a family; and
U.S. citizenship or eligible immigration status.
If a family is eligible, WHA will also do a criminal background check on all adult applicants.
Housing Choice Voucher Forms
WHA ADMIN PLAN 2022 SEPTEMBER UPDATE
Wilson Area Landlords and Affordable Housing Providers
Wilson Landlord and Affordable Housing List
FY 2021 Income Limits for Wilson County
https://www.huduser.gov/portal/datasets/il/il2021/select_Geography.odn
To find the income limits for Wilson County click on the tab that says Click Here for FY2021 IL documentation. To qualify for the housing choice voucher program a household must qualify under the extremely low or very low income limits.
2022 Utility Allowance
Wilson Utility Study November 2021
Housing Choice Voucher VAWA Forms
WHA HCV Emergency Transfer Plan