Current Job Openings
We currently have job openings in our Public Housing and Maintenance Department. Please go to the Careers link at the top of the page and click on the Open Positions pull down tab to get more information.
Varita Court Apartments opens Waiting List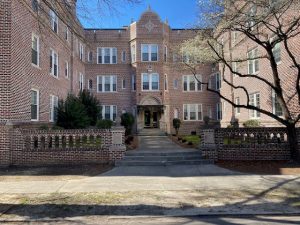 The Wilson Housing Authority has opened the waiting list for its Varita Court Apartments.
Varita Court is a 24-unit three story apartment building for low-income residents, aged 62 and older, at 205 Goldsboro Street E. in downtown Wilson.
The building has 18 one-bedroom units and 6 two-bedroom units, and there are currently openings for both bedroom sizes.

All of the units are rent subsidized with the amount of that subsidy depending on the income of the applicant.
To apply for a unit, you can pick up an application from our administrative office at 301 Nash Street E, Monday-Thursday from 7 a.m. to 4 p.m. Completed applications can be dropped off at the same place.
A pdf of the application is available here, Varita Court Application but currently there is not a way to apply online. If you cannot get to the housing authority office's to drop it off, a completed application can be scanned and emailed to the housing authority at jcrouell@wilsonha.org.
If you need help getting an application or completing it, please contact James Crouell at 252-291-2245 ext. 230.
The Wilson Housing Authority follows all state and federal fair housing regulations and is committed to offering an equal opportunity for housing for all persons.
Wilson Attorney Joins Wilson Housing Authority Board of Commissioners
Wilson attorney William Farris joined the Wilson Housing Authority's Board of Commissioners at its January meeting, filling the post vacated when Thomas Eatmon retired from the board in December.
For the full story please go to our News Channel tab and click on Announcements and Press Releases.
Board of Commissioners announces new leadership
The Wilson Housing Authority Board of Commissioners will be lead in 2023 by Annie Ward, who will serve as the board's chair, and Kent Montgomery, who will serve as the board's vice chair.
For the full story please go to our News Channel tab and click on Announcements and Press Releases.
Eatmon steps down after more than two decades on WHA Board
 Thomas Eatmon brought his 21-year run as a Wilson Housing Authority Commissioner to an end this month when he officially retired from the Board of Commissioners following its December meeting.
For the full story please go to our News Channel tab and click on Announcements and Press Releases.
New Utility Allowance Schedule Posted
The new utility allowance schedule for Wilson and Wilson County has been posted to this website. The new utility allowances take effect on Nov. 1, 2022. Please click on our Housing Choice Vouchers tab under the general housing tab to find a copy of the new utility allowance schedule.
Wilson Housing Authority celebrates ribbon cutting for new Eatmon Townhomes

Wilson and North Carolina officials join the Wilson Housing Authority in celebrating the ribbon cutting for its new 32-unit Eatmon Townhomes on Wednesday Aug. 17, 2022.
Updated Maintenance Charges
We have updated our maintenance charges for 2022 and they will go into effect once the board approves them. To see a copy of the new charges please click on this link:
WHA Maintenance Service Charges 2022
For our residents:
 If you have questions or concerns pertaining to your tenancy or housing assistance please contact your property manager/specialist or case worker by phone or email. The office staff will mail notices requesting any missing documentation.
You may report changes in your income via fax and email:
Forrest Road Manager – Bridgette Everette: bridgette@wilsonha.org, 252-291-1340
Whitfield Manger – Alysha Nutt: alysha@wilsonha.org, 252-291-7267
EB Jordan Manager – Sherica Taylor: staylor@wilsonha.org, 252-234-6016
WHA Mission Statement
The Wilson Housing Authority is a recognized leader and innovator in sustainable, affordable housing.  A high performing agency for several years, WHA is able to engage in a level of community-based partnership with both the City of Wilson and the private sector business community that is exceptional among housing authorities.
The agency's mission is to provide safe, decent, affordable housing to the Wilson Community, ensuring the sustainability and responsible land use in our development that is required for a forward-thinking community.